New Venture Wreck Advanced Open Water Dive Trip August 18th, 2019 out of Orange Beach, Alabama aboard the Down Under
2 Tank Dive on the Famous 300′ Freighter with depths ranging from 60′ to 115′. Cost is $185 which includes air tanks and weights. Upgrade to Nitrox for an additional $20. Limited space call to reserve your spot. $100 non-refundable non-transferable deposit is required hot your spot. 100% refund if cancelled due to weather. Directions to the boat are listed below. We will meet at the boat in the marina NOT at the shop.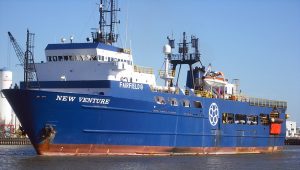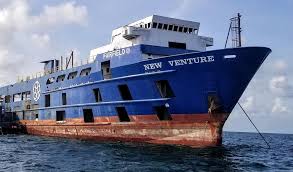 The "DOWN UNDER" boat is a 46' Newton Dive Special. This custom dive boat has every amenity a diver needs, and then some. It is powered by twin 375 hp turbo diesel engines. This dive boat can truly make your diving more enjoyable, with two large dive ladders, plenty of gear stowage, upper deck seating, fresh water showers, waterline platform, two camera tables, roomy dive deck, and 72 tank racks.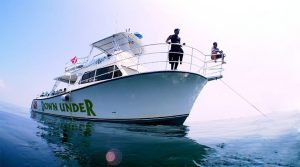 Driving Directions to the boat.
27267 Perdido Beach Blvd # 101 Orange Beach, AL 36561.
Heading east into Orange Beach, you will pass the intersection of Hwy 161. One mile past the intersection, you will see Sanroc Cay Marina on your left. You are now within sight of Perdido Pass Bridge. Sanroc has yellow buildings with dark green roofs, and has several nice shops and restaurants and a large metal marlin fish fountain in front. The marina is in the back, and our dive boat, the Down Under is located directly behind The Steamer Restaurant @ 27267 Perdido Beach Blvd # 101 Orange Beach, AL 36561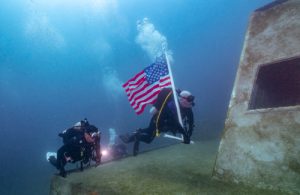 About Adventure Locators
Established in 2012, Adventure Locators opened its doors as a Scuba and Dive Travel retail business. Over the years we have evolved into a well developed and respected business and where our customers stop by sometimes just to hang out and know that they are a part of our dive family. Being the only PADI & SSI Diamond Center in Mississippi, we offer SCUBA lessons from Beginner to the Professional Level as well as the only store in Mississippi to offer Freediving courses. We are the most equipped Scuba retail center in the Gulf Coast region, offering a full line of scuba manufactures from Aqualung, Atomic, Cressi, Mares, Seac just to name a few. If you are thinking about setting out on your own little adventure, let us help you with SCUBA travel destination. We offer rates for the individual as well as group rates. We are glad to help you with any questions or needs you may have – and remember to always "Live Life's Adventure"!
---
Be sure to stay Connected!